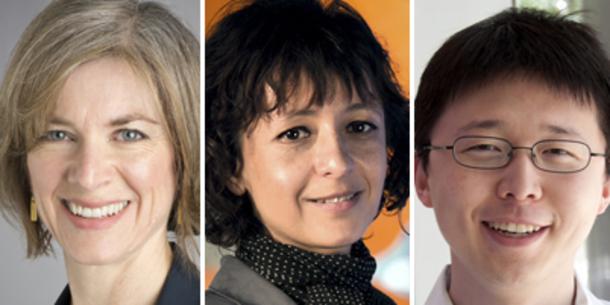 CRISPR/Cas: Der lange Streit um die Patente
Mit dem CRISPR/Cas-Verfahren (Gen-Schere) kann Erbgut verändert werden – so schnell, präzise und zuverlässig wie nie zuvor. Damit eröffnen sich zahlreiche Anwendungsmöglichkeiten: In der Tier- und Pflanzenzüchtung, der Biotechnologie und vor allem in der Medizin. Es geht um viel Geld - und seit Jahren streiten zwei "Lager" erbittert um die Patentansprüche. Im September 2018 hat ein US-Berufungsgericht einen Schlußstrich gezogen und beiden Schutzrechte zugesprochen.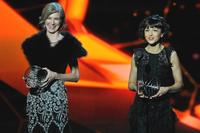 Jennifer Doudna und Emmanuelle Charpentier sind internationale Popstars der Wissenschaft. Sie werden als "Erfinderinnen" des CRISPR/Cas-Verfahrens gefeiert und mit Preisen überhäuft (hier bei der Verleihung des Breakthrough Prize for Life Sciences 2015). Doch das Patent halten sie nicht allein: Auch Feng Zhang (Foto oben rechts) vom Broad Institut haben die US-Gerichte eigene Patentrechte zuerkannt.
Foto: Breakthroughprize.org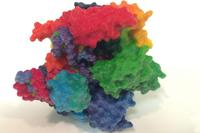 Patent auf CRISPR-Cas: Geht das eigentlich? CRISPR/Cas ist ein "natürlicher Prozess" - und solche sind nach den geltenden Gesetzen nicht patentierbar, weder in der EU, noch in den USA. Doch bis aus dem ursprünglichen Mechanismus, mit dem Bakterien Viren abwehren, ein Verfahren wurde, um einzelne DNA-Bausteine bei Pflanzen, Tieren oder menschlichen Zellen gezielt verändern zu können, mussten mehrere zusätzliche "Erfindungen" gemacht werden. Solche "mikrobiologischen Verfahren" sind patentierbar. Inzwischen sind rund um CRISPR bereits zahlreiche Patente erteilt worden.
Foto: 3D-Modell des Cas9-Proteins, NIH (National Institute of Health)
Keine Frage: CRISPR/Cas ist ein Durchbruch in der Molekularbiologie. Was vorher nur sehr aufwändig und oft fehlerhaft möglich war, ist mit der "Gen-Schere" – so die inzwischen gebräuchliche Umschreibung - zu einem Routineverfahren geworden. Sie "ist so einfach zu bedienen, dass sie quasi jeder Wissenschaftler mit molekularbiologischem Sachverstand bedienen kann", so Jennifer Doudna, Professorin an der University of California in Berkeley, bei der Verleihung des Paul Ehrlich- und Ludwig Darmstaedter-Preises im März 2016 in der Frankfurter Paulskirche.
Zusammen mit der Französin Emmanuelle Charpentier, inzwischen Direktorin am Max-Planck-Institut für Infektionsbiologie in Berlin, hat sie erkannt, dass in einem anfangs rätselhaft erscheinenden molekularen Mechanismus bei Bakterien – eine Art Immunsystem gegen Viren – das Potenzial für ein Universalwerkzeug zum gezielten Umschreiben von DNA steckt. Das Erstaunliche: Es funktioniert in nahezu allen Organismen – bei Pflanzen, Tieren und auch bei menschlichen Zellen. Die Anwendungsmöglichkeiten sind riesig. Vor allem die Aussichten, bestimmte Krankheiten - etwa bestimmte Krebserkrankungen oder AIDS - mit CRISPR/Cas bekämpfen zu können, beflügelte die Gründung zahlreicher Unternehmen.
Doudna und Charpentier sind die bekannten Gesichter von CRISPR, mit hochdotierten Preisen überhäufte Weltstars der Wissenschaft. Im Mai 2012 hatten sie in einer wissenschaftlichen Publikation ihre "Erfindung" von CRISPR-Cas als Genome Editing-Verfahren beschrieben. Im gleichen Jahr reichte die University of California (UC, Berkeley) für Doudna und Charpentier einen entsprechenden Patentantrag bei der US-Patentbehörde (USPTO, US Patent and Trademark Office) ein.
Doch im April 2014 wurde überraschenderweise nicht ihnen das Patent zuerkannt, sondern auch Feng Zhang vom Broad Institut des MIT (Masschusetts Institute of Technology) und der Harvard-Universität. Er hatte mit seinem Team 2013 ebenfalls zu CRISPR publiziert und sofort einen Patentantrag gestellt – allerdings wenige Monate später als Doudna und Charpentier. Zhang hatte - zusammen mit dem bekannten Harvard-Professor George Church - zum ersten Mal CRISPR bei Maus- und menschlichen Zellen angewandt. Für die besonders lukrativen Anwendungen an "höheren" Zellen (Eukaryoten) bekam das Broad Institut das CRISPR-Patent zugesprochen, für das Verfahren "an sich" die University of California. Doch geklärt war damit nichts - im Gegenteil.
"Die anderen haben das Patent für grüne Tennisbälle", so Doudna, "wir dagegen haben das Patent auf alle Tennisbälle." Sie und Charpentier beanspruchten weiter das grundlegende Patent auf das Verfahren, und leiteten umgehend eine formelle Überprüfung (patent interference) ein. Doch sie scheiterten erneut, und auch die letzte Instanz folgte ihnen nicht. Im September 2018 entscheid ein US-Berufungsgericht, die Patentansprüche des Broad Instituts seien "hinreichend eigenständig" und könnten neben denen von Doudna und Charpentier bestehen. Das erst einmal wohl nicht mehr anfechtbare Urteil könnte beiden Seiten dazu bringen, ihren Streit endlich beizulegen.
In Europa ist der Konflikt noch nicht entschieden. Das Europäische Patentamt hat zwar die Ansprüche von Doudna und Charpentier anerkannt, aber auch Zhang für einige seiner CRISPR-Anwendungen Patenrechte zugestanden, darunter auf eine neue Variante des CRISPR-Verfahrens, die anstelle des Cas-Schneideproteins ein anderes (Cpf1) verwendet und die nach Angaben des Broad Instituts noch besser und zuverlässiger sein soll. Inzwischen sind zahlreiche weitere Proteine gefunden und zu molekularen Schneidewerkzeugen entwickelt worden, auf die eigenständige Patente erteilt worden sind.
Für akademische und andere nicht-kommerzielle Forschungsprojekte bleiben die CRISPR-Verfahren frei und ohne Lizenzgebühren nutzbar. Patentansprüche gelten hier nicht.